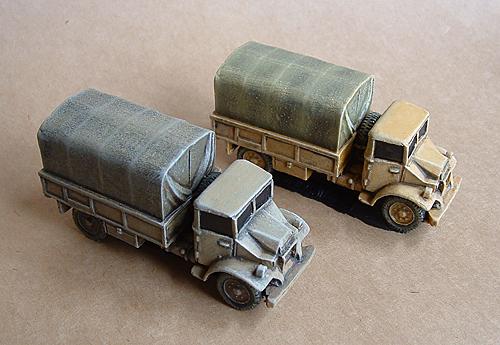 CMP 3 tonners
Manufacturer: Battlefront
Genre: 15mm WW2 Wargaming
Comments: More of the solid 1/100th (15mm) resin models from Battlefront. This time I was experimenting with paint colours — the truck in the background was painted in artists' gouache acrylics, with the yellow being basically just yellow ochre and white (too bright) and the foreground truck a Tamiya acrylic Dark Yellow base. Of the two I prefer the front truck.
The windows on these ones have just been painted plain black. I still don't like it much, but it's certainly easier than trying to paint graduated glassiness as I did on the quad.
One quibble I have with the models themselves is that the canvas tilt has been molded tucked in behind the sides of the truck — in photos I've seen the edges of the tilt lashed down outside the truck sides, not inside them. If I were more motivated, I could remodel them, but frankly that's just not going to happen.