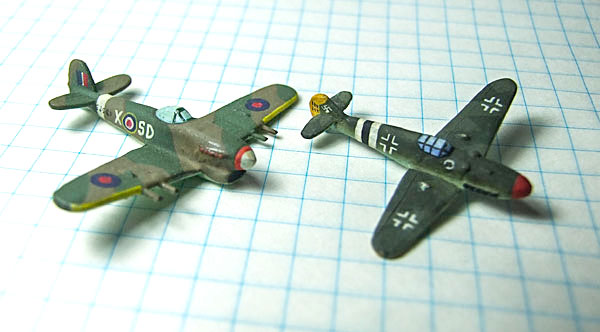 Hawker Tempest and Me109G
Manufacturer: Heroics & Ros
Genre: WW2 wargaming
Comments: There are more detailed models available than the old 1/300 stuff from Heroics & Ros, but these paint up very nicely and give a good representation of the originals. They're certainly quite adequate for the wargaming table.
All of the markings on these are hand-painted, and I think they look pretty good. These days you can get decals for this scale, which would make the job a lot easier. However, I get to feel all virtuous about having done it the hard way.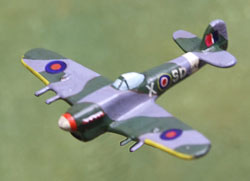 I realised after I finished painting it that the Tempest should be painted in green and grey, not green and dark earth as it is above. Bugger! I didn't relish the prospect of painting around all those markings, but eventually I girded my loins and repainted the blasted thing. Never let it be said that I'm not willing to suffer for my art.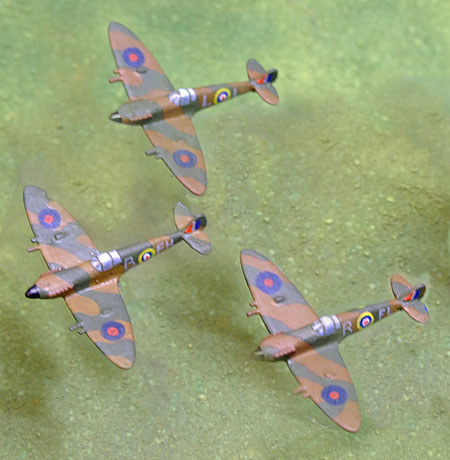 Spitfire
Manufacturer: Heroics & Ros
Genre: WW2 wargaming
Comments: Again, Heroics & Ros. This is their Spitfire Mk.IX model, but I've rendered them in an early war livery and use them as Mk.II for 1939-40. The profile is similar enough to get away with it, though there are detail differences: the under-wing radiators are wrong, and the guns are wrong too. Never mind.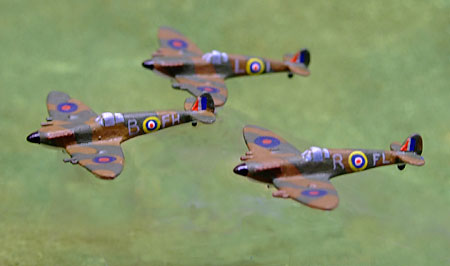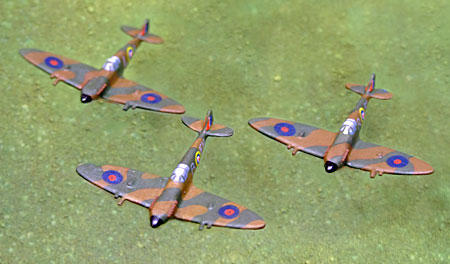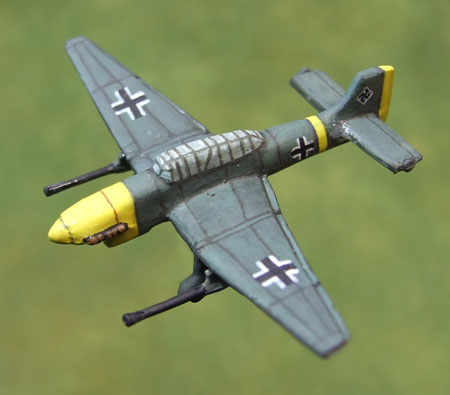 JU87-G Stuka
Manufacturer: Heroics & Ros
Genre: 1/300 WW2 wargaming
Comments: This is the tank-busting version of the famous Stuka dive-bomber. It mounts a pair of 37mm cannon under the wings, and it could drop a 500kg bomb as well. They did remarkably well as ground-attack aircraft, but were hopelessly vulnerable if there were any enemy fighters around.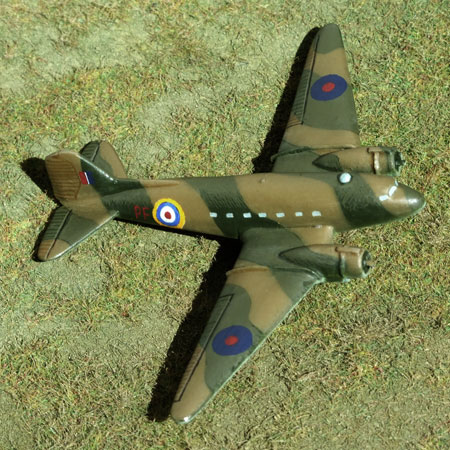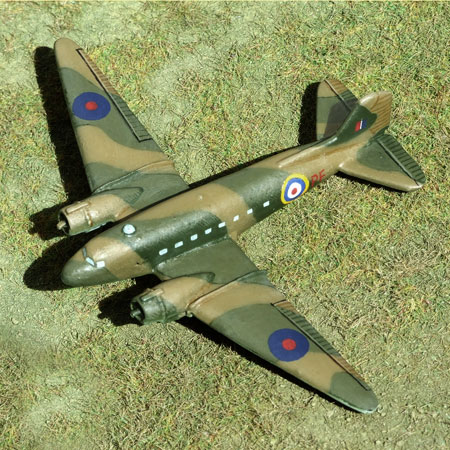 C-47 Dakota
Manufacturer: Heroics & Ros
Genre: 1/300 WW2 wargaming
Comments: This is the famous Douglas DC-3 in its military transport incarnation as the C-47 "Goony Bird", painted for British service. This model will be standing in on the wargames table for bombers as well, until I actually get some bombers — the C-47 was never actually equipped to drop bombs as far as I know, though it was still in service in the Viet Nam war and saw combat service there as the "Spooky" gunship.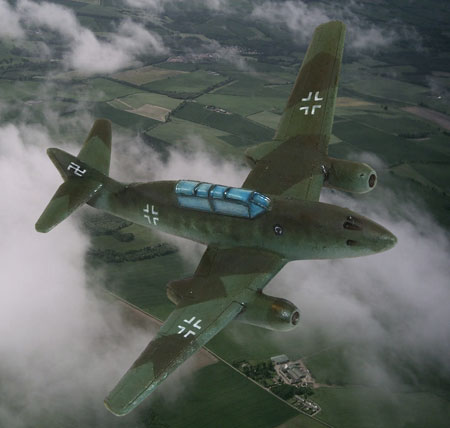 Me 262 Schwalbe (2-seater version)
Manufacturer: C-in-C
Genre: 1/285 WW2 wargaming
Comments: This is the two-seater version of the world's first operational jet fighter, the Messerschmidt 262 Schwalbe (Swallow). Although an aerodynamically-advanced design, highly influential of post-war fighter technology, it was let down by poor engine materials and it had relatively little effect on the course of the war. It continued in production in Czechoslovakia after the war as the Avia, and were still flying as late as 1957.