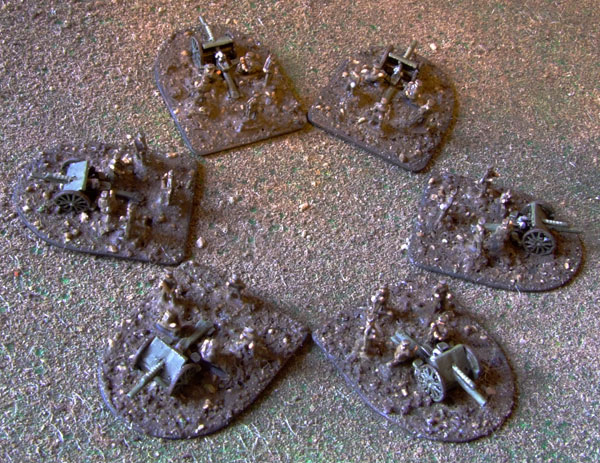 18 pounders
Manufacturer: Heroics & Ros
Genre: 1/300 WW1 Wargaming
Comments: From Wikipedia:
"The 18 pounder was introduced along with the smaller but otherwise similar 13-pounder in 1904, the 18-pounder was found in use on all fronts during World War I. Put into reserve during the inter-war era, some were converted into the famed 25 Pounder design, while many others were re-activated for training or coastal defence."
The 18-pounder was a 3.3" (84mm) field gun with a range from about 6,000 to 10,000 metres, depending on siting and ammunition. They were pressed back into service with the BEF in France in 1940, and in the desert and Far East until the 25pdr was available in numbers.
These models are WW1 guns with a single pole trail which limited the gun's elevation unless it was dug in. After the war, modifications were made to the trail, replacing it with either a split or box trail.