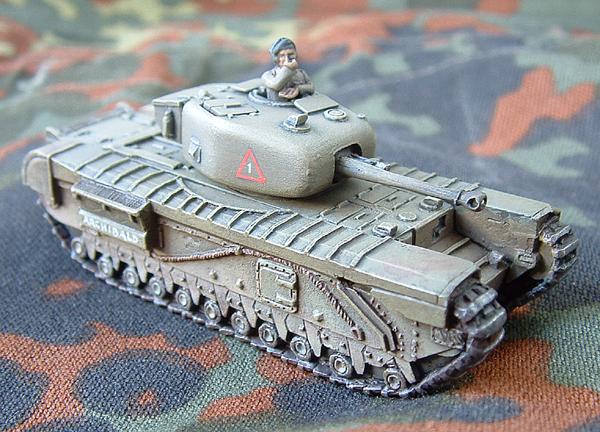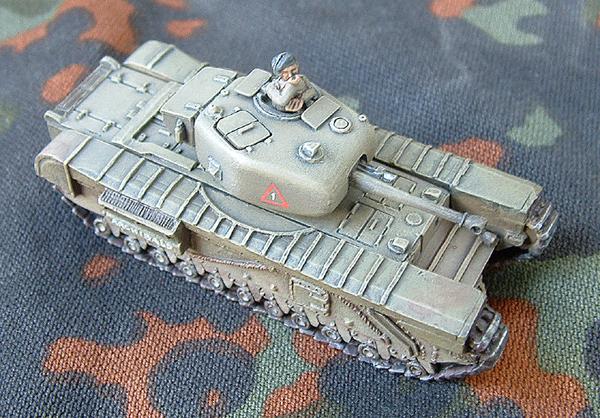 Churchill IV
Manufacturer: Battlefront
Genre: 15mm WW2 Wargaming
Comments: Here are a couple of views of Battlefront's 1/100th scale metal and resin Churchill model. I've finished it in a pretty generic scheme, useable for pretty much any theatre from the Western Desert to Normandy.
Although the colour scheme for this model is very plain — all-over khaki — I quite like the way it turned out. I didn't want to go overboard with the weathering, so I just sprayed a little dust along the bottom of the side-skirts and washed and dry-brushed the detail and that's about it. I had to recreate the hatch covers from scrap plastic card because there were none in the pack I got; this is an annoying and recurring problem I've had with models from Battlefront which are otherwise pretty good. They're always excellent at replacing any missing or deformed parts without a quibble, but I'd prefer not to have to have the issue arise quite so frequently.
I've noticed that when it comes to the vehicle markings on British tanks, I tend to favour the triangle with the vehicle number in it; I suspect that's because I have to paint them freehand, so I gravitate towards the option with the fewest lines :) Next time, I'll try the circle or the square and see how that goes.