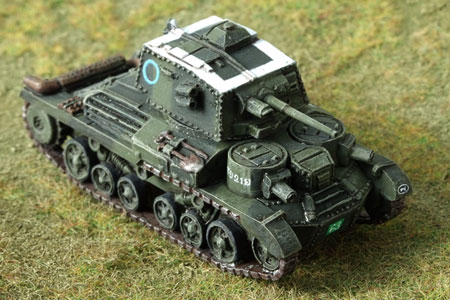 Cruiser Mk.I A9
Manufacturer: Battlefront
Genre: 15mm (1/100th) WW2
Comments: This is the first of the so-called "Cruiser" tanks, introduced into the arsenal of the British armed forces in the late 1930s. They were intended to be fast and mobile, able to make forays deep into enemy territory. This is one of Battlefront's older models, and sadly it's no longer in production. They may get around to producing their early war catalogue again; I certainly hope so, but I'm not holding my breath.
I've painted it as a vehicle in the UK in 1940. The white outline around the turret top was used as an air recognition aid after Dunkirk, and as far as I know was used only within the UK. Some vehicles went out to Egypt with the markings intact, but they were painted out before going into active service when they were "desertified".
From Wikipedia:
The A9 incorporated the best features of the earlier Mk III Light Tank, and was powered by a commercial petrol engine. However, this was still in the time of the Great depression and the tank had a number of cost-cutting measures applied. It was the first British tank to have a centrally-located turret, but was poorly armoured, with a maximum of 14mm thickness, many armour faces were vertical, and there were numerous shot traps.
The driver's compartment and the fighting compartments were not separated. As well as the turret armament, which consisted of a QF 2-pounder (40 mm) gun and a coaxial Vickers machine gun, there were two small turrets either side of the driver's compartment, each sporting one more machine-gun. Both these smaller turrets were permanently manned, which gave the tank a total crew of 6 (commander, gunner, loader, driver and two machine-gunners).
The later Valentine Infantry tank essentially used the same lower hull and suspension, though with considerably more armour.
The A9 weighed 12 tons, was 5.8 metres long, 2.65 metres high, 2.5 metres wide, and had a top speed of 25 mph on road and 15mph off. Its maximum road range was 150 miles. The ammunition load was 100 2-pounder rounds and a total of 3,000 rounds for the three Vickers machineguns.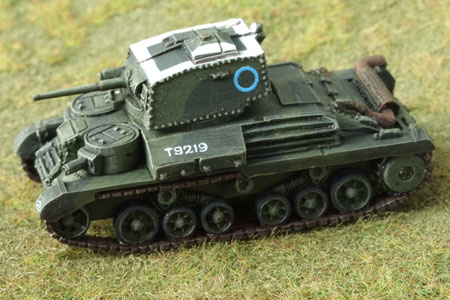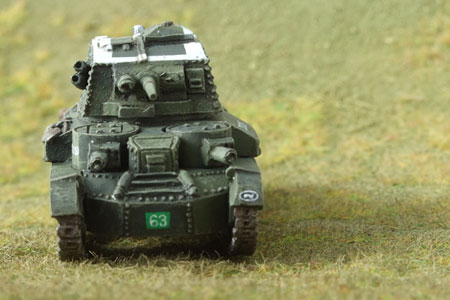 The model above was painted too green and dark for the schemes in effect in 1939-40; the base colour, Khaki Green No.3 was actually a rather brown shade with a greenish tint, and the disruptive shade, Dark Green No.4 was much lighter than the Dark Bronze Green No.24 I've used there.
The scheme shown above would be more appropriate for British vehicles later in the war. Rather than re-paint that model, I've done another (model gratefully inherited from my friend Steve).