Painting 15mm Infantry
I don't paint every button, buckle or eyeball on 15mm wargaming figures. In my opinion, the results simply don't justify the effort. I paint enough to give a reasonable representation of the men as they might have appeared from a distance of about twenty or thirty metres, exaggerating shadows and highlights somewhat for effect, which I find is more than adequate for the wargames table.
NOTE:
XF colours are Tamiya acrylics
VMC are Vallejo Model Color acrylics
Other paint brands are specified in the text as appropriate.
Block-painting is followed by an overall sepia ink-wash, then with localized pin-washes to further define any areas that still need it.
Below I show some examples, with a quick guide to the colours and processes I use. The colours are those that look good to me, based on what limited colour reference material I have available, and shouldn't necessarily be taken as absolutely accurate.
All figures are sculpted by Battlefront.

British Infantry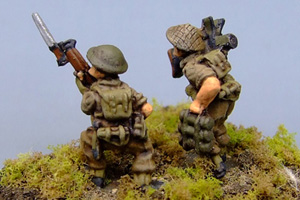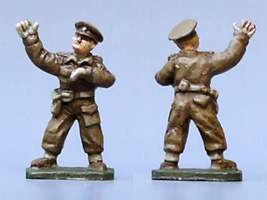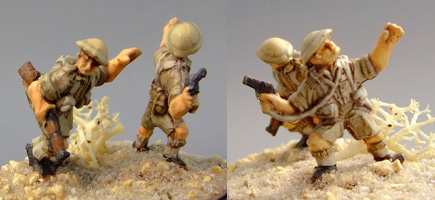 Battledress

Base coat is XF51 Khaki Drab, heavily dry-brushed with VMC921 English Uniform and highlighted with VMC880 Khaki Grey. Shirt is VMC988 Khaki.
NOTE: I haven't yet found a Vallejo equivalent for Tamiya Khaki Drab, but you can get in the same general ballpark with a mix of 5 parts VMC897 Bronze Green, 2 parts VMC956 Clear Orange and 1 part VMC952 Lemon Yellow. Possibly substituting VMC911 Light Orange for the Clear Orange and Lemon Yellow might get you there a bit more simply, but I haven't had the opportunity yet to try it out.
Tropical uniform
Base colour is XF57 Buff, socks are VMC880 Khaki
Webbing
Green webbing (European theatre) is painted in a mix of roughly 50/50 VMC886 Green Grey and Badger Air-Opaque Golden Yellow, very lightly dry-brushed with VMC976 Buff.
Sun-bleached webbing (North Africa and early Italy) is VMC880 Khaki, highlighted with VMC986 Deck Tan.
Helmets
Steel helmets (Europe) are base-coated XF51 Khaki Drab and highlighted with VMC924 Russian Uniform.
Steel Helmets (North Africa) are base-coated VMC880 Khaki and highlighted with VMC819 Iraqi Sand.
NOTE: steel helmets aren't ink-washed; the painted highlight and shadow gives a more even and reliable result.
Netted helmets are base-coated VMC880 Khaki Grey and highlighted around the brim and on the crown in VMC986 Deck Tan.
Boots
Other ranks' boots are black.
Officers' boots are brown, except for one of the Guards regiments who issued black boots to their officers. I don't remember which one, and since I only paint generic infantrymen it doesn't really matter — I just paint all officer's boots brown.
NOTE: boots in the field rapidly take on the colour of the surrounding earth, whether it be mud or dust. However, I prefer to paint them relatively clean as it helps to separate the figure from its base; the figures look less like they're growing straight out of the groundwork.
Weapons
Base colour is VMC995 German Grey, woodwork is VMC983 Flat Earth. Bayonets are silver. Bren barrels are VMC865 Oily Steel.
Piats and bomb-cases are highlighted in VMC924 Russian Uniform.

German Infantry