Val
Char
Cost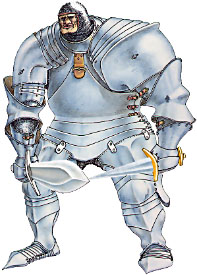 Description
Smirnoff is very strong, very ugly, slightly thick, and fights like a runaway combine harvester. He likes little children, though they tend to run away screaming when they see him — it's a great trial to him.
His only hobby, if it can be called that, is catching wizards and tying them up in knots without the aid of ropes. If he can't actually catch them, he'll kill them from a distance, but that's not as satisfying as actually rending them in his heavily-armoured mitts. Where his hatred of magicians began I don't really remember, and in all likelihood, neither does Smirnoff. It's become a habit now, and part of a friendly rivalry with his old comrade in arms, Angror the ranger, the only other human being he's ever met who is as strong as him.
Smirnoff tends to be impatient with stairs, and prefers to take the quick way down by jumping. That used to work quite well in the old AD&D days, when he could plummet 100 feet, take his 10d6 hit-points damage and walk away whistling. That tactic may not work quite as well under the HERO System.
Smirnoff was the very first AD&D character I ever rolled up, and though he's completely useless at anything except fighting, I still have a vague affection for him. This conversion to the HERO System was done by following the guidelines presented in the Fantasy Hero sourcebook. I drew the above picture of him a long time after I stopped playing him, but I think it reflects his personality pretty well.
Copyright © 1998 by Fitz
23
18
20
20
8
11
15
5
12
12
5
12
40
60
STR
DEX
CON
BODY
INT
EGO
PRE
COM
PD
ED
SPD
REC
END
STUN

13
24
20
20
-2
2
5
-3
7
8
22
6
0
18
4
4
4
5
5
4
+1
+1
+1
+1
Martial Block
Martial Dodge
Martial Strike
Offensive Strike
Defensive Strike
Martial Disarm
Use w. 2-h weapons
Use w. Swords
Use w. Axe/Mace/Pick
Use w. Morningstar
+2
--
--
-2
+1
-1
+2
+5
+2
+1
+3
+1
Block, abort
Dodge, abort
STR + 2d6 Strike
STR + 4d6 Strike
STR Strike
+10 STR Disarm